ACT Test sites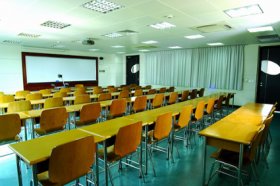 We all want to max out brainpower on the day of the ACT. But what can help, besides studying? One factor worth considering is where you take the test. You want a place that allows you to focus completely on the test without other anxieties, concerns or discomfort.
And guess where a lot of test-day anxieties, concerns and discomfort can come from? That's right, they can be direct results of choosing a distracting or inconvenient testing center. In this article, we give you all the information you need to make the right decision about which of all ACT test centers to choose
In this article, we'll cover how you find the ACT locations administering the test. Then, we'll discuss the important factors you need to consider to choosing your test location. Finally, we'll give you a few tips and reminders you might not have known about test centers.

How do I find which locations are near me?
There are two ways to find test locations.
1) First, the ACT provides a search tool for locations:
I recommend that on this form you search by state, and not by city. If you enter the city, you'll only receive schools for that exact city, not neighboring areas. You'll see a list of cities, center names, and test dates. Not all centers have all test dates, so make sure you plan ahead!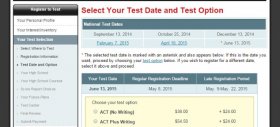 2) The other way to find test locations is to pretend to register for the test. You don't need to go through with the whole registration, and they won't charge you for it. You'll need to log into your ACT account, and then click the link to register for the test. This will take you through many questionnaires. Finally, when you get to Test Date, choose your intended test date.
Go through a few more pages, and you'll get to the Test Center.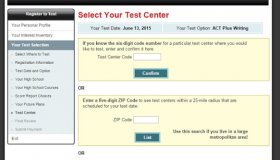 On this page, you'll be able to enter a Zip Code, and the ACT will conveniently show all ACT testing centers within 25 miles.
It's unclear why they don't make the zip code search available publicly without registering for the test.
Which ACT test location should I choose?
Your best choice of ACT test locations depends on a number of factors. In order of importance:
How long does it take to get there?

How familiar are you with the location and layout?

Will you know a lot of people at that location? How will that affect you?

Are there known aspects about the location that make it problematic?
You might also like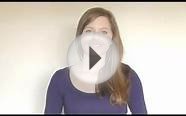 ACT Test Prep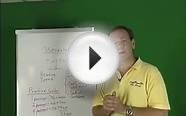 ACT Test Prep - Science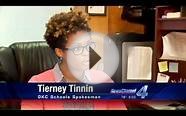 Students locked out of ACT test site
SAT/ACT/PSAT 2012


Software (Topics Entertainment)




Take diagnostic exams to determine test strengths and weaknesses, focus your prep and build skills with a personal study plan
Practice, practice and practice again with 20 realistic exams, build confidence and speed with score-raising tips and test strategies
3,+ test questions, 400+ flash cards, 10 full-length SAT tests, 5 full-length PSAT exams, 5 full-length practice ACTs, Higher Score Guarantee
A realistic test-taking experience, see exam pages as you would in real life, skip around the exam and answer the questions you want to first, includes a virtual...
Bonus Features: Share progress and results on collaborative Web site, online mentors available (this version includes a free trial) to review every problem, view...