Online Degree Universities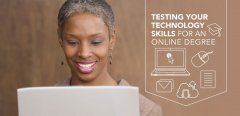 Thinking about enrolling in an online university, but not quite sure if your technology skills are up to par? While you don't have to be a technology expert to successfully learn online, you do need to be comfortable using a computer and navigating online environments.
Here's a quick look at the basic skills and tech requirements you'll need to ensure success with online learning.
Hardware and Software
Most online universities will provide a list of specific hardware and software requirements, but there are some basic you should also consider. For example:
What Will You Be Using as Your Primary Computer? If you're using a desktop or laptop computer (Mac OS or Windows), you're in good shape. If you're planning to use a gaming console, tablet, or smartphone as your primary device, you might want to rethink your options. Mobile devices can be good for certain aspects of your online education (videos, message boards, chat, etc.), but it might be challenging to complete a research paper on one.
How Old Is Your Primary Computer, Its Operating System, and General Programs? If your computer or its operating system is more than 5 years old, consider updating them for a more efficient experience. You'll likely need recent versions of general programs for creating and editing documents, presentations, and spreadsheets (e.g., Microsoft Word, PowerPoint, Excel) as well.
How Many People Have Access to Your Computer? It's best to work on a computer that only you have access to, for safety and security of your coursework, as well as availability. But using a family computer can be okay, too, as long as you securely save your files and have access when needed. Public computers, like the ones available at the library or shared workspaces, can present too many challenges (access, file storage, security) to be useful for pursuing an online degree.
If you think you might need to upgrade your computer or its software, check with the online school you plan to attend for their specific tech requirements. Your school might also offer educational discounts on new technology via their online bookstore.
Computer Skills
You'll want to have some basic computer skills before committing to an online degree program. For example, how fast is your typing? You don't have to type over 60 words per minute, but you should definitely be comfortable with a keyboard—you'll be spending a lot of time together
You should also be familiar with basic skills like word processing, creating presentations, installing and updating software, running virus scans, saving and retrieving files, and trouble-shooting Internet access.
You might also like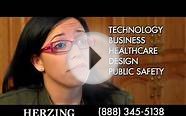 Herzing University Online Degrees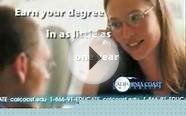 "Online Degrees" California Coast University 866-91 ...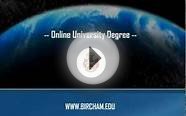 Online University Degree
ZyXEL NWA3160n 802.11n Hybrid Wireless Access Point / WLAN Controller With PoE Support, and Plenum Rated Housing


CE (ZYXEL)




Higher bandwidth and superior performance with 802.11n
3-in-1 hybrid AP WLAN including AP controller mode, managed AP mode and standalone AP mode
Brand new centralized graphic management interface for up to 24 WLAN Aps
Back-up redundancy supported to provide reliable connection service
Secured tunnels for communication between controller and managed AP to prevent leaking of configurations
Enterprise-class AP functionalities with comprehensive configuration interfaces.
Built with Low Smoke, Zero Halogen (LSOH) materials for plenum rating for UL 2043 support
Higher bandwidth and superior performance with 802.11n
3-in-1 hybrid AP WLAN including AP controller mode, managed AP mode and standalone AP mode
Brand new centralized graphic management interface for up to 24 WLAN Aps
Koson-Man Men's 3D Padded Bicycle Cycling Underwear Shorts (LightBlue, XL)


Sports (Koson-Man)




S Waist 28-30 inch M Waist 31-33 inch L Waist 34-36 inch XL Waist 37-39 inch XL Waist 40-42 inch
Material: Good fabric 90% Polyester/Nylon 10% Spandex.
Breathable fabric provides super flexibility and keeps your body dry.
Air permeability 3D pad supply comfort race.
Sweat Absorbent Volatility Quick Dry.

M&K Women's 3D Padded Bicycle Cycling Underwear Comfort Style Shorts(Stars Style Size L)


Sports (M&K)




S Waist 27-28 inch M Waist 29-31 inch L Waist 32-34 inch XL Waist 35-37 inch XL Waist 38-40 inch
The second generation padding, which is thinner but still do excellent support, provides more comfortable and breathable feeling
Sweat Absorbent Volatility Quick Dry.
Spandex material provide super flexibility and keep your body dry.
We paid highly attention to all the customer reviews and feedbacks, and have now improved the padding, material, and adjust the size accordingly.